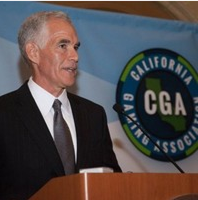 Kyle Kirkland
President
,
California Gaming Association
Kyle Kirkland is the President of the California Gaming Association, the industry trade association which represents California cardrooms. Mr. Kirkland is also President and General Manager of Club One Casino, a 51-table cardroom in Fresno, California and serves on the board of the California Council on Problem Gambling (CCPG), a non-profit organization dedicated to assisting problem gamblers and their families.
For 17 years, Mr. Kirkland was Chairman of the Board and a controlling shareholder in Steinway Musical Instruments, the largest manufacturer of musical instruments in the United States. Earlier in his career, Mr. Kirkland worked for Drexel Burnham Lambert, an investment bank specializing in high yield securities and Bain & Company, an international management consulting firm.
Mr. Kirkland also serves as Chair of the Board of the Fresno Chaffee Zoo and oversees the Kirkland Foundation, a 501(c)(3) non-profit dedicated to animal rescue in California's Central Valley.
Mr. Kirkland received an A.B. magna cum laude from Harvard College in 1984 and a MBA from the Graduate School of Business at Stanford University in 1988.