April 28, 2020
ICE Goes Digital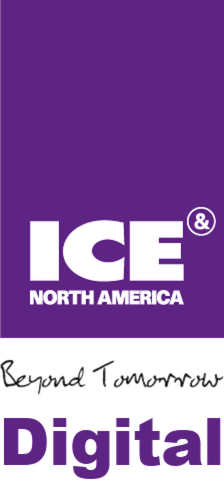 Rory Credland has been managing trade meetings, conferences and various other business events for 20 years, but his current project is like nothing he's ever done.
An event director for Clarion Events' ICE Totally Gaming portfolio of trade shows since 2015, Credland most recently has focused his efforts on expanding the Europe's largest trade show brand to North America. Until around six weeks ago, he was busy planning the second edition of the ICE North America conference, originally slated for May 13-14 in New Orleans.
We all know what happened next.
With large gatherings around the world banned due to the Covid-19 pandemic, Clarion made the decision in March to postpone the second ICE NA conference until spring 2021. However, by the time the show producer confirmed the decision publicly March 24, Credland was already weeks into a new project—putting on a digital version of ICE North America, this year, the same week the New Orleans show was to take place.
ICE North America Digital will be a five-day virtual conference, with full days of panels, presentations and networking from Monday, May 11 through Friday, May 15—a "free-to-attend gathering of operators, suppliers and regulators," according to a press statement from Clarion Gaming.
According to Credland, excitement is building as participation and attendance numbers begin to rapidly gain steam. "We wanted to reach out to our partners and show attendees, and assure them that it was business as usual, and I'm pleased to say that people have responded in large numbers," he told GGB News. "We've got good, quality people signing up across the spectrum."
As of April 23, less than a month after the event was announced, more than 1,300 attendees had registered, from 600-plus companies based in 85 countries around the world. More than 40 speakers will deliver high-quality content on the land-based, online and tribal gaming markets in the U.S., as well as the growing hospitality tech sector.
"We want to be able to provide delegates and attendees with information, regardless of what's going on at the moment," Credland said. "Everyone's still hungry for education and knowledge. We discussed how to bring ICE North America New Orleans to additional formats, and how much of that we can replicate as closely as possible to what people would have experienced in a physical format."
For Credland, it's also been something of a crash course in producing a digital event of this scale—and doing it fast.
"We were probably six weeks out, which is not long in terms of an event time scale," he said. "So, it's involved working all hours, but it's been interesting, and good fun, actually."
It's not like Credland had to start from scratch. "Fortunately, I'm from a production background, and back in the day I was doing a lot of research, so I'm familiar with that." That research ability was quickly put to use, as he looked into how other digital conferences have been conducted.
"A lot of it has been on-the-job learning," he explained, "but we were fortunate enough to have a digital arm, so we got some advice from them. We've done webinars before, so that I do know about. We came together more as a team and helped each other out, which is a master trait for what we do at ICE."
What Credland's team has done is put together a quality roster of speakers from across the industry, including operators like Colleen Birch, senior vice president of revenue optimization at the Cosmopolitan of Las Vegas, Sun Gaming & Hospitality President and CEO Bobby Soper, and Daniel Kustelski, co-founder and CEO of Chalkline Sports. Regulator panels will include top officials from regulatory agencies in Maryland, Kentucky and elsewhere. Other panels feature executives from FanDuel, PointsBet, Edwards Technologies and more from across the industry.
Credland says other speakers are being added to the roster every day, and attendance numbers are increasing right along with the speaker lineup.
Each day of ICE North America Digital will feature a different theme. The first two days will concentrate on the hottest areas in the digital world. "For digital, we'll focus on the here and now, and how the current climate is being affected across all verticals," Credland said.
Event Breakdown
Monday, May 11. Monday's theme will be iGaming & iLottery. A feature presentation by H2 Gambling Capital partner David Henwood will examine the impact of the global pandemic on the iGaming industry. A panel moderated by the International Masters of Gaming Law will feature Jesse Chemtob, general manager and VP of casino for FanDuel Group, and Fox Rothschild attorney Marie Jones, discussing how iGaming is providing a lifeline to land-based gaming during the pandemic. Other presentations will look at popular online slots, blockchain for iGaming, and social gaming to keep operators in touch with their customers.
Tuesday, May 12. The agenda on Tuesday will be Sports Betting and Performance Marketing. Presentations will examine how Covid-19 shutdowns will affect sports betting legislation; which sports are running, and when mainstream sports will return; virtual racing and sports; operating sportsbooks with no live sports; and how the current disruption will impact the momentum of sport betting in the U.S.
"Will more of the additional states that were considering sports betting expedite their effort?" said Credland. "Are the bills that narrowly missed going to be put back on the table? What companies are currently succeeding in the online market, and how will that look going into 2021?"
Wednesday, May 13. The focus on Wednesday will be on Brick-and-Mortar and Hospitality, in sessions hosted by Global Market Advisors. Topics will include staying in touch with customers during the shutdown; on-premise mobile betting as a way to thrive despite social distancing; and creating a roadmap to restarting the land-based industry.
"For the land-based side of things, the opportunity will first be to discuss what the next steps are, and what happens to these properties once they open up," said Credland. "What's their strategy, what's their plan, how quickly will they be able to open? These are all the questions we'll be discussing throughout the day.
"I imagine that unfortunately, because of what's happened, we'll be seeing quite a different physical setup in how these properties may be laid out. How does the meet-and-greet service work? The first interaction you have with the customer—how does that look? What does that feel like? Are people going to feel less connected than they normally would?"
Thursday, May 14. This day will feature training sessions on responsible gaming, sportsbooks and casino property management.
Friday, May 15 will feature a keynote presentation by all the program anchors from the previous four days in a debate on expectations for the industry in 2021. The day will end with a "Wrap-Up Networking Party."
"We'll bring together a keynote with the actors from those four days, and an around-the-table chat about how the week's gone, what were the main points that each of the anchors took away from the day they were hosting," Credland said. "And then, as we were doing on the middle night of our (physical) events, we'll have a nice get-together where attendees can talk about work, or not talk about work, connect with friends, share a beer or coffee, depending on the time zone you're in, and chat about what's going on for them in the near future."
Networking, in fact, will be emphasized throughout the week. "Attendees will be able to connect one-on-one, by video and by a general chat room separately while the event's going on," said Credland. "We'll do a pre- and post-event each day and give people the opportunity to chat once the show's finished."
Networking also will substitute for the one thing that cannot be duplicated from other Clarion events—new product exhibits. While Clarion did explore offering virtual exhibits, it ultimately was determined that product information will be available through the event sponsors. "We felt that the tool we're using at the moment will give people the opportunity to download product documents and connect directly with the sponsors," said Credland.
Credland said he feels digital conferences—which are multiplying by the week during the industry shutdown—will remain an important tool after the casinos reopen. "I do think the digital aspect will be more of a complement to the physical shows," he said. "The shows will still be around, but the digital elements will add more benefit to the events as well."
In the meantime, ICE North America Digital is shaping up as an important interim event while the land-based industry is idle. "The North American market is so fast-moving that regulations and solutions are changing all the time," Credland said in the latest press statement. "Now more than ever, there is a need for a collective approach where we can all share our experience and know-how on how we move forward, and we're delighted to be able to facilitate this for free."
For more information or to register, visit icenorthamerica.com.