December 11, 2019
ICE 'crucial to the operation and regulation of the gaming industry in the States'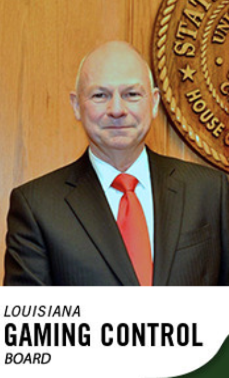 An Interview with Ronnie Jones, Chairman, Louisiana Gaming Control Board
As event organizers, the endorsement of legislative bodies and business associations is always important to secure, particularly when launching a new initiative. For ICE North America, relocating to New Orleans next May, they don't come any more significant than Louisiana's Gaming Control Board, within whose state boundaries the famous old city resides. The Pelican state is one of many currently looking at legalizing sports betting in the U.S. and is a melting pot of interested parties as a result, be they legislators existing land-based concerns, or technology providers. We recently caught up with Board Chairman Ronnie Jones to get the latest on developments, what having ICE North America in his own back yard means, and what visitors can expect from the Big Easy.
Sports Betting legalization in Louisiana appears to be in a state of flux following the knockbacks to SB 153 earlier this year, what does the next legislative session have in store?
It is anticipated that one or more bills will be filed in the spring session pushing legalization of sports betting. One would likely authorize a parish (county) by parish referendum, a Constitutional requirement for new forms of gaming. The bill might also set up the regulatory structure and provide the manner and location of sports betting operations. However, what no bill can do this spring is address any taxation or fee issues as those may be considered only every other year by the legislature and that opportunity was missed last spring/summer. So, hypothetically, the legislature could authorize a referendum for 2020 and perhaps even set up the regulatory structure and define how/where bets might be placed. But they could not introduce bills setting up the taxes and fees. That would have to wait until the spring of 2021.
Amendments which included the use of official league data and sports betting at video poker terminals are considered to have instigated the bill's downfall – how can last minute alterations be avoided in the next attempt to pass pro-sport betting legislation?
The amendments which mandated the use of league data and the expansion of sports betting to video poker locations clearly complicated the deliberations of the legislature. Conspiracy theories among legislative watchers abound as to the motivations for the introduction of the amendments. Nevertheless, public policy on gaming is the exclusive purview of the legislature and the Board takes no official position on what form or manner of gaming is legalized. We provide information, counsel and advice when requested but we would hope any legislators intending to offer a sports betting bill in the future will have the opportunity to meet with and discuss the proposed legislation with legislative colleagues as well as stakeholders in advance to avert last minute disagreement.
Moreover, from my standpoint the industry dropped the ball as well. They didn't do what I think is absolutely essential in the discussion of proposed legislation - offer a united front. As the bill neared its eventual demise, the twenty casinos in the state diverged and even hedged on offering their support. Some wanted to wait for a more perfect bill in another session in the future, some wanted to push what was at the table, and others were noticeably absent from any participation in the process. By not offering a more collaborative offensive front in trying to get the bill to the floor they provided legislators with a ready-made excuse to oppose the bill. More than one legislator opined, "why should I vote on a gaming bill when the industry who would most benefit cannot agree on whether it is acceptable."
How will the re-election of Governor Edwards impact the potential legalization of sports betting in the state?
The governor and I have discussed sports betting on more than one occasion. He understands that thousands upon thousands of dollars are bet by Louisiana residents on all manner of sports day in and day out. He knows it's done illegally through bookies and on the internet, all in an unregulated market. I think he understands that Louisiana citizens are always better protected if they wager in a well-regulated market. For that reason, he indicated that if a sports betting bill made it to his desk he would sign it. He also understands that legal sports betting in Louisiana would make the state's gaming industry more competitive with other jurisdictions. We have no reason to believe his position has changed since his re-election, but I have not had a follow up discussion with him on the topic and would defer to him for his opinion.
What benefits will the legalization of sports wagering bring to Louisiana? How do market predictions fair in comparison with gaming powerhouses such as Nevada, New Jersey and New York?
According to an omnibus gaming report prepared by Spectrum Gaming on behalf of the state's Department of Economic Development, the authors estimated that legal sports betting could generate revenue between $237 million and $332 million. Clearly Louisiana would be well behind New Jersey and closer to Mississippi in terms of revenue. But our primary focus has always been not what direct revenue is derived from sport betting but rather the indirect benefits to licensed locations and the communities where they are located. The addition of sports betting to Louisiana's gaming landscape would drive business to the 20 casino locations where we believe visitors would buy food and drink, spend the night in a room, visit the spa and retail offerings, and perhaps even play a table game or two. We view sports betting almost as just another amenity but one with potential multiplier effect.
Where does Louisiana sit on the road to legalizing mobile wagering?
Ultimately, if Louisiana is to be competitive with other states and is genuinely interested in substantially impacting the illegal market, mobile gaming will have to be an option. However, when asked by legislators what my opinion as a regulator is with respect to mobile, I have always recommended a measured and gradual approach to sports betting, first at brick and mortar locations and then an eventual movement to mobile. I don't believe legislators are yet comfortable with mobile applications. I, on the other hand, have absolute confidence in mobile applications like those in New Jersey, but legislators simply aren't there yet. And I will always be respectful of the opinion of those policy makers.
Louisiana is set to host ICE North America, one of the biggest gaming shows in the world. How will hosting this show benefit the local industry?
We believe conferences like ICE North America and organisations such as SWIMA are crucial to the operation and regulation of the gaming industry in the States. They facilitate communication among regulators, the legal community, and operators and educate those stakeholders on the issues and trends of the regulated markets and solutions to illegal markets. With the advancement in technology and expansion of gaming modalities, we believe that education on responsible gaming, BSA/AML, and similar topics is now vital. Having attended ICE North America in Boston last year, we are thrilled to have ICE North America coming to New Orleans. The city is consistently ranked in the top five of convention and conference destinations by travel magazines and convention planners. The impact of convention business on the entire community is profound and the city wraps its arms around visitors and makes them feel they are in a special place.
Any tips for delegates visiting New Orleans for the first time?
Anyone travelling to ICE should make a list of things to do. First of all, check out the local music scene. Venues large and small are scattered around town and offer a variety of musical options rarely found concentrated in one locale. Visiting clubs where locals hang out will help you better understand how we have become such a diverse melting pot. Secondly, enjoy the bounty of restaurants that range from internationally recognized chefs to neighbourhood favorites where locals belly up to the bar for the best of Creole, Cajun, and southern dining. New Orleans consistently nears the top of the list for James Beard nominations and there are plenty of first place winners scattered around town. And finally, after seeing the French Quarter, see what the rest of the city is about. Take the streetcar uptown past stately mansions and Audubon Park, check out the sculpture garden (at the end of another leisurely streetcar ride) at City Park, or spend some time at the renowned World War II Museum. For those who have never been to the city I would urge that you take your time, slow down, pace your enjoyment of hospitality and you will come to love this city that many of us call home. In return, she will love you right back.