January 30, 2020
Gaming & Hospitality Education Series 2020 Supported by Konami Gaming and Clarion Gaming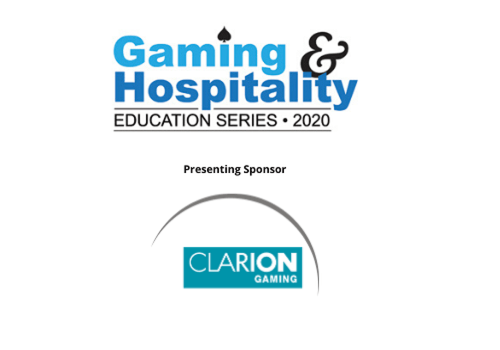 The third year of the Global Gaming Business (GGB) Gaming & Hospitality Education Series (GHES) will kick off on February 20 with support from two of the industry's most powerful companies, Konami Gaming, Inc. and Clarion Gaming.
Konami Gaming continues as the title sponsor of the GHES for the third year. To add to Konami's support, this year the GHES will be held at Konami headquarters in Las Vegas in the company's LEED-certified building. Konami has demonstrated its commitment to the elevated gaming education provided by GHES.
And for the first time, Clarion Gaming and its ICE North American trade show and conference add their support to this important educational series. Clarion, the producer of the industry's largest trade show and conference, ICE London, is also committed to bringing its expertise across the ocean by presenting ICE North America in New Orleans on May 13-14, 2020.
GGB Publisher Roger Gros says it's gratifying to receive the support of both Konami and Clarion.
"When you talk about two companies that move the needle in their respective segments of the industry, you can't do better than Konami and Clarion," he says. "To have them demonstrate their support for GHES is a testament to the unique educational experience GGB is providing for the gaming business."
Steve Sutherland, president and CEO of Konami Gaming, emphasizes the important role of education to advance the future of the industry.
"At Konami, we're proud to support diverse educational opportunities in both gaming and hospitality that our customer base finds valuable," he says. "These events give industry leaders and professionals the chance to engage with a variety of impactful topics."
Kate Chambers, managing director of Clarion Gaming, says GHES fits right into the portfolio of her company.
"At Clarion, we've always been committed to extraordinary gaming education," she says. "As we're doing with ICE North America, GHES, in particular its hospitality focus in which we have also invested heavily, will provide an excellent platform to demonstrate the quality education that we'll provide in New Orleans in May."
The February 20 Episode of GHES is entitled "5 Ways the Gaming Industry Will Change in the Next Decade." It will feature experts who will predict how gaming will advance in the areas of non-gaming revenue, iGaming, sports betting, operations and data analytics and technology.
For more information and registration for GGB's Gaming & Hospitality Education Series, visit GGBGHES.com